When is my MOT due or when does my MOT run out?
Your MOT will be due once a year and the easiest way to check when your MOT is expiring is by adding your car to Caura.
When you download the app and enter your vehicle registration number, we automatically sync up with the DVLA to remind you of upcoming renewals like your MOT and car tax.
You can book an MOT with a garage in Caura up to 60 days before it's due. The earlier you book, the better. If you leave it till last minute, you could be at risk of not getting an appointment in time.
If you're buying a car, remember to always ask for an MOT certificate – it's one of the most important documents to keep hold of!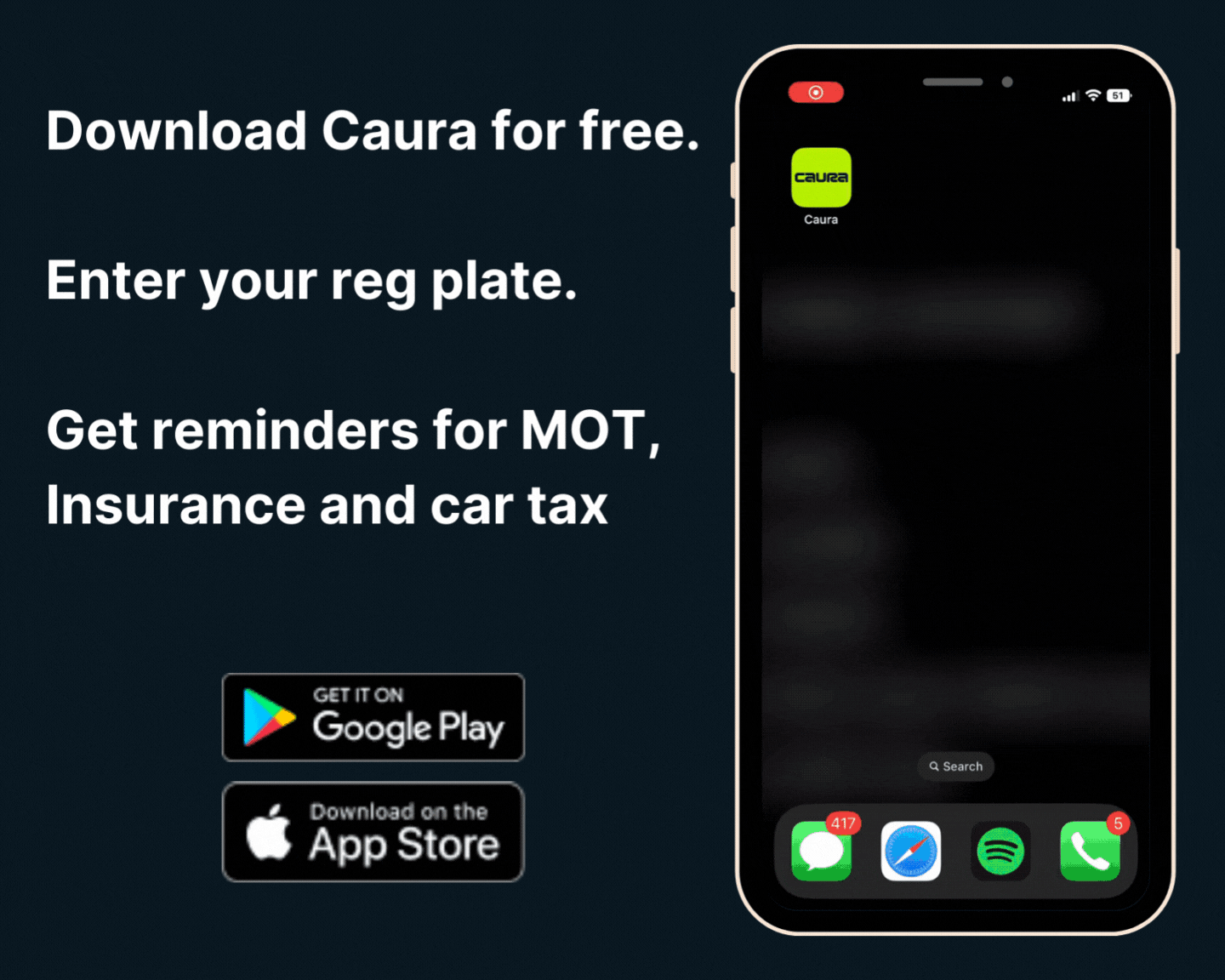 How long does an MOT take?
This depends on whether you're just sending your car for an MOT or booking a service with it.
An MOT test alone usually takes around 45 – 60 minutes. If you've booked it with a service, garages will usually let you know how much time the services will take.
There are a number of reasons your car could fail its MOT – view the four most common here. If your car fails its MOT, you can leave the car at the test centre for repairs. If repairs are done within 10 working days, you will only be required to pay for the repairs and will get a free re-test for the MOT at the same garage.
If you're due to send your car for an MOT, read our recent blog that highlights 10 pre-checks you can do to minimise the risk of failing your MOT. Then, simply download Caura, enter your reg plate and book in a test via 6000+ garages, straight from the app! 

When does my MOT run out?
Your MOT is valid for one year, after which you will need to book another test to make sure that your vehicle is still safe to drive on public roads.
If you're buying a car, you can check if it has a valid MOT in Caura. Simply enter the reg plate and Caura will tell you the date it's valid until.
Remember to always ask for an MOT certificate whenever buying a car – it's one of the most important documents to keep hold of!
How much does an MOT cost?
The maximum MOT fee for your car is £54.85, however, the cost of an MOT can vary depending on your vehicle type and any add-ons the garage offers. For example, if the garage offers a collection and delivery service, the cost of an MOT could be higher.  Check the maximum MOT fee for your vehicle type here.
Choosing the cheapest option is not always recommended – these garages may find reasons to add on additional work, so you should check that you are using a reputable garage.
That's where Caura comes in. You can book all car maintenance, including an MOT, car service or any repair work in Caura via our network of over 6,000 reputable garages you can trust.
Here's why you should book in Caura:
You get access to exclusive pricing meaning you'll always get a fair deal for the work you get done
Manage everything from booking to authorising additional work in-app
Be confident that your vehicle is in good hands – we only work with qualified, vetted mechanics

Can I drive without an MOT?
No you can't. Driving without an MOT is illegal. If you get stopped by the police, you can be given a fine of up to £1,000. If the vehicle you're driving is in a condition that is deemed dangerous, the fine amount will be much higher, and can reach up to £2,500 for car owners.
You will also get three points on your driving licence and could be disqualified from driving for at least six months.
The only reason you can legally drive without an MOT is if you're driving to the garage for the test. Remember, you'll have to show proof of appointment if you're stopped by the police.
Some vehicles are also exempt from MOT checks – for example, hackney carriages licensed by TfL. You can find a full list of MOT exempt vehicles here.
How to book an MOT?
We've made it simple and easy for drivers to book an MOT. Here's how:
When you sign up to Caura, we automatically sync with the DVLA to pull details like MOT and tax renewal dates
Then, we'll send you timely reminders when your MOT is due, giving you plenty of time to book an MOT on a day that works for you.
Once you get a reminder, simply tap on 'Book Garage', select the garage and the dates your available, and book in a couple of taps!

What else does Caura help me with?
Now that we've helped you with your MOT, let us take care of the rest of your vehicle admin too!
On top of paying for Clean Air Zones, roads and toll payments in the app, you can also manage things like car tax and insurance in Caura.
Tax
We'll remind you when your car tax is due. Then all you need to do is open the tax tab in-app, enter your V11 or V5C details and pay – all in under 30 seconds. It really is that fast!
Insurance
On insurance, we've partnered with market-leading insurers to offer you the best quote for your needs. We've also reduced the questions needed to generate a successful quote by 75% which means you can get from quote to cover in under a minute.
Refer your friends to Caura and you could save £50 or more on your next insurance policy!